Happy New Year one and all! From the team here at PhotoBlog, we wish you good health, happiness, and great success in your photographic endeavors this year.
This week's theme is all about the new year's resolutions we can make in order to take our photography game to the next level. But before we get into that, allow me to share a thought.
I've heard it said a hundred times: people couldn't wait for 2016 to be over. There's no need to rehash the reasons, but for many it seems we live in a world that is increasingly hard to understand.
I was reminded of an antidote to this when I interviewed PhotoBlog user Jay Keywood last week. He told me:
"I now realize photography is a way of interacting with people and place. Photography is how I make sense of the things I see." -Jay Keywood.
In these two sentences, Jay has provided us all with a simple blueprint for wrestling back some control and understanding of the world around us in 2017.
Turn off the 24 hour news channels and head outside with your camera to interact with people and place. Also, be sure to check out the interview here as it's a great read!

Weekly Theme #21 Winners:
Congratulations to these members! Look out for a PM from me in your inbox. Thank you to everyone who participated in the celebrations weekly theme!
Fireworks proved the most popular choice for capturing a celebratory atmosphere last week. However, 3rd place winner Michal Drapáč reminded us some people prefer to get away from noise, parties, and drunken revelers. In a separate entry, he shared this scene of the mountains where he and his family were spending New Year's Eve. Simply beautiful!
2017 Weekly Theme 1: 365 Projects and Other New Year's Resolutions
The secret is out: the best way to improve your photography skills is to shoot every single day. If you read my article 5 Things About Street Photography Only The Pros Know, you'll know my favorite photographer of all time is Steve McCurry. He's on record as saying photographers need to take at least 20,000 images in order to truly find themselves creatively.
Let's pause to do the math. If you trust McCurry's opinion, that would be 54 photos every single day for a year. Impossible, right? If you were to start taking pictures everyday, then it would be a much more reasonable-but still daunting-10 photos a day for 5 years to reach 20,000 images.
This week, I'm not asking you to make a full commitment to a 365 project. I am, however, asking you to try it out. I want you to get a feel for what it's like to take photos on consecutive days for the best part of a week. Let's call it the 1-week project!
How to Participate:
Deadline: January 8th, 2017
How to submit: Add 2017theme1 as one of the tags in your post on the PhotoBlog platform
Check out the submissions: Use the Weekly Theme tab
Support and encourage: Like and comment on your favorite posts
Top 10 New Year's Resolutions To Up Your Photography Game
It's that time of year when people feel an urge to make promises of self-improvement to themselves. Below, I've written a list that will ensure any photographer has a fun and fruitful year.
1. Start a 365 project
Hands down, this is your best chance of improving your photography skills in 2017. If you haven't already, now's the time to check out PhotoBlog member Helen Hooker's excellent article on how she's managed to keep her 365 project going for 8 years.
2. Give gear minimalism a shot
Try using one body, one lens, and focusing all your efforts on what I call the soul of an image.
It's too easy to say "My pictures would be better if I had a bunch of nice lenses at my disposal."
The real investment when improving your photography isn't financial. It's in training the mind to spot great photo opps and acting in a split second.
3. Plan a photography trip
Whether it's a road trip in your home country, or that epic foreign journey you've always wanted to go on, use January to plan a trip. The trip's main purpose should be photography. Then, actually follow through with the plan.
4. Wait a week before editing and sharing your photos
Street photographer Eric Kim calls this process marinating. If we rush home, edit, then share our photos on the same day, we're probably going about it too quickly. Try not looking at your photos for a week, then sit down to edit them. This way, you forget what it was like in the moment you took the photo. You can then see an image for what it really is, allowing for greater objectivity.
5. Take your camera everywhere
I see this advice time and time again online. However, can you really carry around a huge and heavy DSLR all the time? Perhaps it's time to invest in a smaller back-up camera that can be tucked into a shirt or jacket pocket. For example, PhotoBlog member Jay Keywood recommends the Ricoh GR compact camera. I've got to say, the images from it are great!
6. Stop doubting your photography or comparing it to others.
Seriously, this isn't doing anything positive for you. 2017 is about moving forwards with your photography, not remaining stagnant. Give others a hand up the ladder instead of viewing photography as a constant competition of who can take the best picture.
7. Reach out to other photographers online.
Networking is important and being proactive about it is a must. Try not to sit around wondering why people don't comment on your photos, when you don't comment on other people's either. Reach out and increase your visibility online, then people will come to you. This applies to everything from your PhotoBlog account, to Facebook, to Twitter, to Google+.
8. Expand your skill set.
Add a new genre you've never tried to your belt. If you usually take travel photos, give macro images a whirl. I'm mainly a travel photographer, but through experimenting I found out I really enjoyed nighttime cityscape photography. Whatever it is, just add one new element to your repertoire in 2017.
9. Attend photography meetups and workshops.
Aren't there any in your area? Don't use that as an excuse. Be the person who starts one. You never know how many photographers there are in your area who'd be interested.
10. Learn how to write captions.
Then, commit to publishing a photo essay on your PhotoBlog. A photo essay is a story told primarily through images, with varying amounts of text. With a PhotoBlog pro account, you can add up to 20 photos in a single post. This is more than enough to tell a story with a complete narrative arc (a beginning, a middle, and an end).
Related Article: Photo Essay Ideas
Check out these three articles for further information about telling a story with photos: How To Create An Engaging Photo Story: Part 1 and Part 2, and Travel Blogging 101.
Read Next: Best travel blogs in the world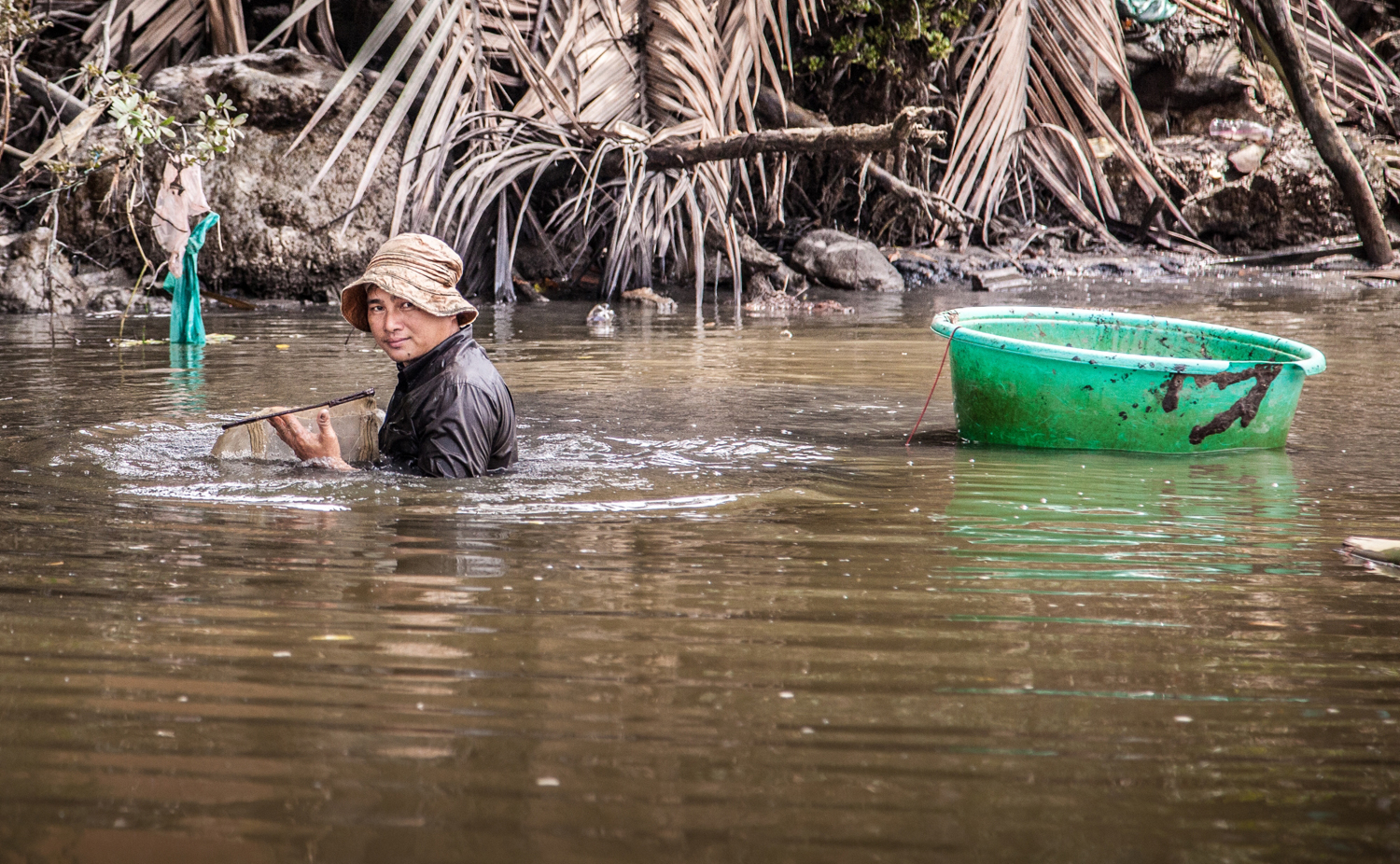 Caption for photo above: Before my boat turned off the Saigon River into the waterways of the Mekong Delta, I saw this man submerged up to his chest. He was digging the riverbed to harvest blood worms. He risked stepping on used needles, or contracting waterborne parasites, one of which is known to cause lifelong impotency. I wondered why someone would put themselves through such risks. The answer was financial gain, with a day's catch of blood worms netting four times the regular wage in the area.
Your Mission
Get a taste for what it feels like to do a 365 photography project by trying out a 1 week project. I'm aware you might not read about this weekly theme until later in the week, so taking a photo a day for 7 days is not a requirement for entry. Let's say take a photo on at least 3 consecutive days this week, up to every day, then share your photos with the PhotoBlog community. Start 2017 as you mean to go on with this challenge. The ideal outcome will be finding out you want to continue for the full year. Perhaps like Helen, you'll still be doing this 8 years from now!
SUBSCRIBE
Get valuable photography education and inspiration.