When it comes to photographic genres, landscape photography is one of the most popular and one of the easiest for anyone to try. All you need is a camera with a single lens (and perhaps a good tripod) and you're away! Of course, that doesn't necessarily make it easy. Luckily I'm here to help you find some inspiration and encouragement. Let's explore some of the best Landscape Photographers of all time.
This is a list of the people who are our top landscape photographers – a purely personal choice and your preferences may differ. Of course, this list will change over time, as new talents appear on the scene.
1. Charlie Waite
Charlie Waite is a legend in the landscape photography world – his serene and elegant style is immediately recognizable. As well as being the founder of the Landscape Photographer of the Year competition, he is an inspirational teacher and runs workshops through his tour company, Light and Land.
Web: www.charliewaite.com  Instagram: @charlie_waite
2. Ansel Adams
No list of the best landscape photographers would be complete without a mention of this man! A founder member of the f64 group, he developed the zone system, a technique for ensuring the best range of tones and highest quality in printed images. For a large part of his working life, he was contracted to photograph the US National Parks. His prints exploit the possible range of tones so completely they almost seem to glow. If you're in London between now and the 2nd February 2019 and want to see his photos close up, the Atlas Gallery is showing an exhibition of his work.
Related Article: Best Online Photo Printing Services
Web: www.anseladams.com  Instagram: @anseladams
3. Thomas Heaton
A British landscape, travel and outdoor photographer, Thomas Heaton is quickly becoming one of the best in his field. He shoots an amazing variety of landscape styles and has an active YouTube channel, sharing inspiring videos about the art and craft of landscape photography.
Web: www.thomasheaton.co.uk  Instagram: @heatonthomas
4. Edward Burtynsky
Not a traditional landscape photographer, Edward Burtynsky is more a documenter of the earth. His images showing the effect of the human race on our planet are superb and the level of detail captured in them is just staggering.
Web: www.edwardburtynsky.com Instagram: @edwardburtynsky
5. Justin Minns
So much of this photographic genre is about dramatic landscapes, but it doesn't have to be. Rather than jetting around the world, Justin Minns has focused largely on his home area of Suffolk, England. His images are subtle and magical. A great example of how the best photographic opportunities can be right on your own doorstep.
Web: www.justinminns.co.uk  Instagram: @justinminns
6. Peter Lik
Perhaps a somewhat controversial choice. Lik is best known to many for his image, Phantom, a print of which sold for a staggering $6.5 million in 2008. More recently he hit the news again, with a controversial composite moonscape. However, his images are stunning and you can't doubt his dedication to the cause of landscape photography. He's shot in all 50 US states, getting through 1000 rolls of film in the process!
Related Article: Best Film Cameras
Web: www.lik.com  Instagram: @peterlik
7. Trey Ratcliff
While some may class Trey as a travel photographer rather than a landscaper, there's no denying his landscape photos are awe-inspiring. A self-professed exponent of HDR photography, his images show all the light and shade our cameras struggle to capture in one frame, by combining multiple exposures. He has shared at least one photo and blog post every day for a decade. As someone who has done this myself, I know how hard it is to keep up such consistency!
Web: www.stuckincustoms.com Instagram: @treyratcliff
8. Valda Bailey
With a background in painting, Valda's approach pushes at the boundaries of landscape photography. Making creative use of multiple exposures and intentional camera movement she focuses on details in the world around us to create impressionist imagery. I dare you to look at her images and not want to go and try these techniques for yourself!
Web: www.valdabailey.com Instagram: @valdab
9. David Noton
David Noton has traveled the world in search of beautiful landscape opportunities. His sweeping vistas are glorious, but he's not afraid to zoom in on details too. Every month David publishes his online magazine, f11, which is packed full of inspiration, articles, and videos. A great source of inspiration and education for all budding landscape photographers.
Web: www.davidnoton.com Instagram: @notonphoto
10. Michael Kenna
Kenna's monochrome work has long been iconic in the world of landscape photography. His understated, minimalistic work, particularly of Japan, is just stunning.
Web: michaelkenna.net Instagram: @michaelkennaphoto
11. Ted Gore
Ted Gore's images of wilderness landscapes are simply awe-inspiring. He openly uses advanced digital editing techniques to recreate landscapes as he saw them at the time of shooting. Winner of USA Landscape Photographer of the year in 2015, Gore is definitely one to follow.
Web: www.tedgorecreative.com Instagram: @tedgorephotography
12. Daniel Kordan
Daniel Kordan is a Russian landscape photographer, based in Italy and the Lofoten Islands. His work shows the world around us at its very best, with oodles of beautiful golden light. He is also a master of engaging his audience through his Instagram captions.
Web: danielkordan.com  Instagram: @danielkordan 
13. Guy Tal
Guy's work is all about patterns and structure. He has an eye for patterns in the landscape and often uses these to create abstract forms. I can't recommend his work highly enough!
Web: www.guytal.com  Twitter: twitter.com/guytalphoto
14. Steve Gosling
An Olympus Ambassador, Steve's trademark look is a dramatic black and white. Monochrome may not be an obvious choice for landscape photography, but one which works so well in his hands. Steve is also enthusiastic about shooting with 'alternative' optics, such as plastic lenses, pinholes etc.
Web: www.stevegoslingphotography.co.uk Instagram: @steve_gosling
15. Simon Baxter
Based in the north of England, Simon specializes in photographing the woodlands around the North Yorkshire Moors. His approach is to capture the mood and atmosphere of the place, more than worrying about technicalities, and his images are simply magical. He also has a successful YouTube channel with 35,000 subscribers, where he muses on his photographic outlook and working methods.
Web: baxter.photos Instagram: @baxter.photos
16. Max Rive
Max Rive may have been born in the far from the mountainous Netherlands, but his photography shows that he's most at home in the mountains. His photos make astonishing use of light and are just breathtaking. His landscapes often feature a solitary human to give a sense of scale, which only enhances the wow factor.
Web: www.maxrivephotography.com Instagram: 
17. Mark Littlejohn
Another landscaper who concentrates on a particular area, in Mark's case the beauties of Cumbria and the Lake District in England. His extreme local knowledge simply shines through his images, which are full of atmosphere. Mark has written about how he often shoots landscapes at f5.6. This allows him to shoot freely, without a tripod, and focus the viewer's eye on the most important element in the frame. It may not be the usual landscaper's technique but you can't argue with his results!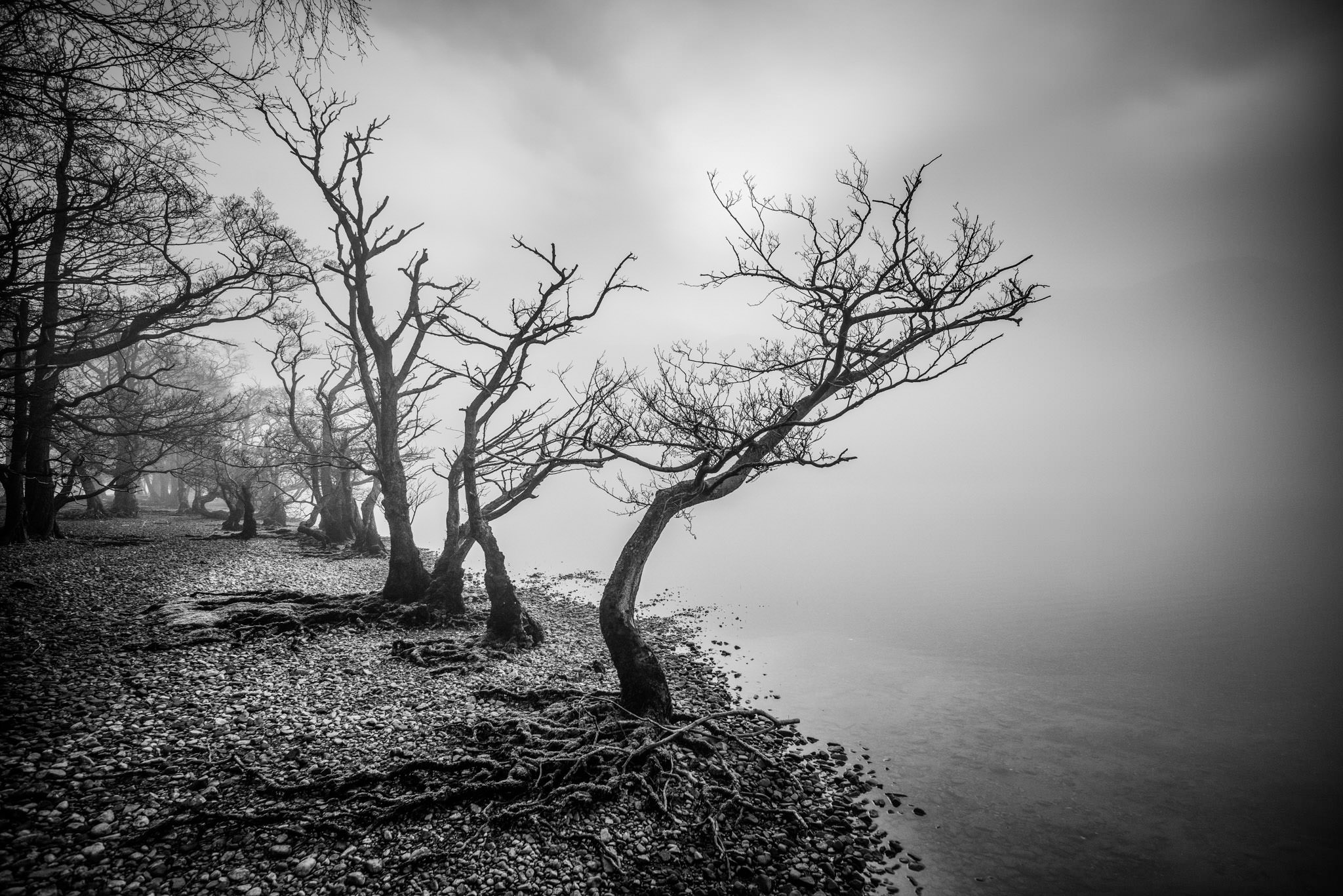 Web: marklittlejohnphotography.com Instagram: @mark_littlejohn
18. Cath Simard
Cath is a self-taught Canadian travel & landscape photographer, now working on her chosen genre full time. Her photos of dramatic scenes have a sense of peace and serenity which is just magical.
Web: www.cathsimard.com Instagram: @mydetoxtravel
19. Verity Milligan
A UK based photographer whose work featured among the winners of the 2016 Landscape Photographer of the Year competition. Her superb portfolio also includes stunning imagery of the urban landscape.
Web: veritymilliganphotography.com Instagram: @veritymilligan
20. Isabella Tabacchi
Isabella makes wonderfully dramatic use of light in her images. For her, the digital 'negative' is a mere starting point. She's not afraid to shape her photos in post-processing to recreate the scene as she felt it when she pressed the shutter.
Web: isabellatabacchi.com Instagram: @isabellandscapes
21. Erin Babnik
Starting out as an art historian, using photography for the purposes of teaching and research, Erin now uses these skills to focus on wilderness photography. Her images have a wonderful graphic quality to them and she's not afraid to focus in on smaller details too.
Web: erinbabnik.com Instagram: @erinbabnikphotography
22. Ellen Borggreve
Ellen's landscape images have a painterly look to them which reflects her fine art background. Her woodland photos are some of the finest I have ever seen and she has also written an eBook Masterclass to share some of her techniques with us mere mortals.
Web: ellenborggreve.com Instagram: @ellenborggreve
23. Saskia Boelsums
Saskia's work is very reminiscent of Dutch old master paintings. They have such a sense of drama and texture about them that I want to reach out and touch them for a more immersive experience. Absolutely magical!
Web: saskiaboelsums.nl Instagram: @saskiaboelsums
24. Mandy Lea
If you're after a landscape photographer who truly immerses themselves in their work, Mandy is the one for you! Living on the road in a tiny teardrop caravan, Mandy simply lives and breathes her work. Currently traveling from Alaska to Mexico, Mandy has taken some stunning images along the way.
Web: mandyleaphoto.com Instagram: @mandyleaphoto
25. Marco Grassi
Another photographer who knows how to use light to sculpt and beautify any landscape. At the tender age of 23, Marco has a long career ahead of him and can only get even better!
Web: marcograssiphotography.com Instagram: @marcograssiphotography
Now that you've seen all this incredible photography, I hope you're feeling inspired.
And I hope you feel excited to get out--and take some fantastic photos!
But if you want to feel inspired all the time, you should definitely sign up for the PhotoBlog newsletter. We send our subscribers all sorts of great stuff--such as inspiration, tips, and photography secrets. All to help you capture world-class photographs.
Did I mention that it's all totally FREE?
(Oh, and we'll send you a natural lighting cheat sheet--designed to help you use light in ways you've never considered.)
So to start capturing amazing photos, and to start feeling inspired all the time, enter your email:
Download FREE Photography Lighting Cheat Sheet
Subscribe and get a free downloadable photography lighting cheat sheet
Are you on Pinterest? Pin this to save the article